OM team and volunteers in Indonesia packing supplies for vulnerable communities

"I pray that during this trial, they will draw close together and that God will reveal His love and healing to them holistically," Amy* says as she shares how she and her team have been reaching out to communities affected by the COVID19 pandemic in Indonesia.
Although the pandemic has created untold suffering among these communities, this challenging time is an opportunity for the Christians in Indonesia to share God's love practically.
The virus has been spreading to all 34 provinces in this vast nation, with the total number of infections confirmed at 19,189 as at 20 May (The Jakarta Post), and death toll at 1,242.
Amy hails from Europe and has been working alongside her Indonesian teammates for almost a year among rural and impoverished communities. As she learns the local language and culture, she has been sharing the love of Jesus with children and their families in these communities.
Since 21 April, Indonesia has been in a lockdown. OM Indonesia, in partnership with OM Mercy Teams International, has been reaching out to marginalised and poor communities that are particularly vulnerable to the spread of the virus as they live side by side in overpopulated areas. "They have less access to education and government support. They don't have running water systems and are low-income families or unemployed. There are high hygiene risks due to unhygienic living conditions and seasonal flooding," Amy explained.
As soon as Amy and the OM team realised the severity of the pandemic, they sprang into action. They drew up a plan to help 1,500 needy families who are affected by the COVID19 pandemic by distributing emergency food supplies.
Over two distribution runs (most recent on 14 May), they delivered 430 food packs consisting of five kilogrammes of rice, cookies, canned sardines and condensed milk, one litre of cooking oil, one kilogramme of eggs, two masks and a brochure with coronavirus prevention method. These were items requested by the people from the community that they visited.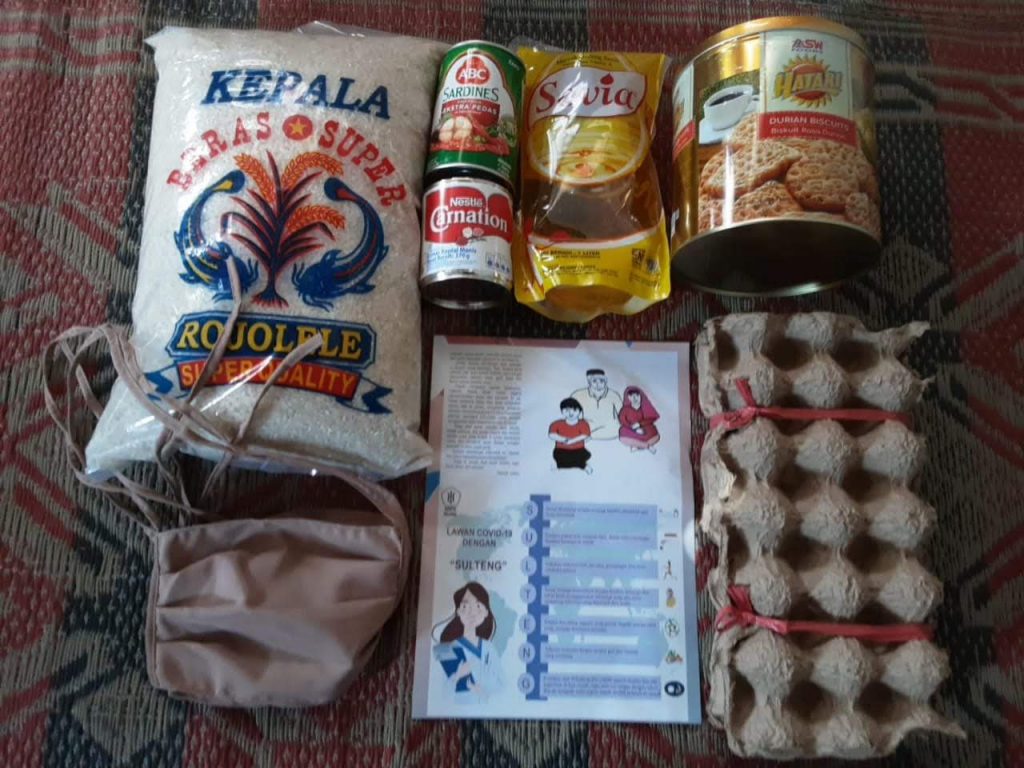 During the second distribution run, more than 30 volunteers joined the OM team and expressed their joy that they could participate in the meaningful work of sharing love with people who faced economic difficulties.
Team leader, Mark*, met several housewives waiting for their food packs in front of their homes with coupons to exchange for the packs. "This is very helpful and mean a lot to us during this challenging time," one of them shared. When he heard this, Mark thought, "Although distributing food packs is a small thing that we do, it could mean a lot to those who receive the help."
"We are also grateful to everyone who participated in this food sharing with the needy through praying, donating, or volunteering. Many in this country have not even received any help yet. We hope that more donations will come in so that more people can receive help and experience the love of Jesus!" Mark shared.
Amy added, "I hope that all believers worldwide can join me in prayer for those whose livelihoods have been affected, that they will be strengthened and comforted."
OM Mercy Teams International COVID19 Crisis Relief
An emergency food pack like the one that Amy and Mark distribute costs about S$15 and can provide for a family of four for two weeks. If you would like to contribute to the food pack distribution programme or other COVID19 Crisis Relief initiatives, please contact admin@mercyteams.net.
*Pseudonyms are used for security purposes.